Back to List
Concerts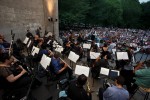 The Knights
Place & Time
Historic Naumburg Bandshell
Concert Ground, Central Park
New York
NY
July 24, 2012
7:30 PM
Contact Info
Our 107th year of Free Concerts. No tickets issued. 900 seats provided on a first come first serve basis. Benches around Concert Ground also available.
No rain dates, No rain location.

For a Central Park map see http://newyorkcity2005.web.infoseek.co.jp/information/maps/centralpark-map.html

Free classical music, a service in harmony with our community.
We thank those who generously support our series.
Program
The Knights
"If we are to talk about the future of classical music in America, sooner or later the Knights will come up" (The Los Angeles Times)
Eric Jacobsen, conductor
Matt Herskowitz, piano

Steve Reich (1936)
Duet (1993)

Henry Purcell (1659-1695)
Airs and Dances
Matt Herskowitz
World Premiere (2012)
Matt Herskowitz, piano

Darius Milhaud (1892-1974)
La création du monde, Op. 81a (1922-23)
Overture
The Chaos before Creation
The slowly lifting darkness, the creation of trees, plants, insects, birds and beasts,
Man and woman created
The desire of man and woman
The man and woman kiss (Coda)
INTERMISSION
Aaron Copland (1900-1990)
Quiet City (1941)

Joseph Haydn (1732-1809)
Symphony No. 8, 'Le Soir' (1761)
Allegro molto
Andante in C major
Menuetto & Trio
La tempesta: Presto
Midge Woolsey of WQXR - Host