Back to List
Concerts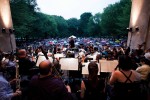 The Knights
Place & Time
Historic Naumburg Bandshell
Concert Ground, Central Park
New York,
NY
June 20, 2011
7:30 PM
Contact Info
Our 106th year of Free Concerts. No tickets issued. 700 seats provided on a first come first serve basis. Benches around Concert Ground also available.
No rain dates, No rain location.

For a Central Park map see http://newyorkcity2005.web.infoseek.co.jp/information/maps/centralpark-map.html

Free classical music, a service in harmony with our community.
We thank those who generously support our series.
Program
The Knights
"If we are to talk about the future of classical music in America, sooner or later the Knights will come up" [Los Angeles Times]
Eric Jacobsen, conductor
Lisa Bielawa (1968- )
Tempelhof Etude - World Premiere
Morton Feldman (1926-1987)
'Madame Press Died Last Week at 90'

Ludwig van Beethoven (1770-1827)
Symphony No. 5 in C minor, Op. 67 (1804-08)
Allegro con brio
Andante con moto
Scherzo.Allegro
Allegro